Resources
Deposit Now!
This business makes banking easy! You can make your deposits electronically when it's convenient for you - cutting down on trips to the bank! Read more...
EI Printing
Need to order QuickBooks compatible checks? Check out this price comparison chart. You'll find EPI Printing is the most cost effective printer around. When you're ready to order, I've included an order form for your convenience.
Associate - Quality Consulting Group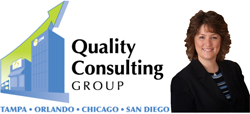 Quotes to Remember
In the words of Ralph Waldo Emerson, "What you do speaks so loud that I cannot hear what you say."
"We keep moving forward, opening new doors and doing new things. Our curiosity keeps taking us down new paths." - Walt Disney
"If you want anything said, ask a man. If you want something done, ask a woman." - Margaret Thatcher, Former Prime Minister of the UK
"To be upset over what you don't have is to waste what you do have." - Ken S. Keyes, Jr.
Life is 10% what happens to you and 90% how you handle it.
Free Help
I offer my clients what I call "free tech support" and what that means is that if you are a client of mine and you have a two minute question I typically can answer it and will not charge you.
However, like you – my time is valuable and I do charge for both phone and email support. Another option for you is to go to the QuickBooks Community and you might find the answer there. The Community can be found under "Help" in your QuickBooks program.